In September we had the very great pleasure of accompanying around 100 of our customers onboard the beautiful MSC Virtuosa Cruise Ship for a three-night cruise from Southampton visiting Cherbourg in France and Zebrugge in Belgium.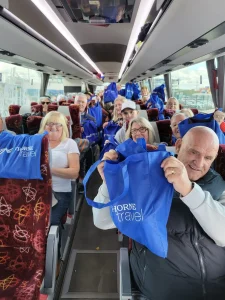 We set off in luxury coaches from our Kilwinning and Largs branches where everyone had an opportunity to sit back, relax and meet our fantastic team. Our fabulous customers were also provided with a Thorne Travel 'Goodie Bag' with some essentials for the journey.
When we arrived at Southampton Cruise Terminal, the security and check-in process was well organised, so it didn't take long to get onboard the ship.
And WOW what a ship she is! The MSC Virtousa's name comes from the word virtuoso, meaning someone highly skilled in a field or activity. The name pays homage to the skills and expertise of the architects and shipyard partners who designed and built this stylish and innovative cruise liner.
The ship's Staterooms and Suites are modern, beautifully designed, and much more spacious than you would expect. Whether you're looking for a suite with a private whirlpool, an ocean view stateroom, or a family stateroom, you'll find it all on the MSC Virtuosa.
The ship offers a superb choice of entertainment for the whole family. From days in the Spa and Wellness Centre, Savannah Aquapark or Sports Centre to evenings in the grand theatre, karaoke lounge, Red Gem casino, and comedy club. MSC Virtuosa is also well known for its themed street parties on the main deck, and many of our customers enjoyed dancing the night away to some 70s classic s!
The ship has 21 bars in total, five of which are outdoor bars offering breath-taking views. The 16 indoor bars each offer a unique experience including a humanoid Robotic Bartender called Rob. The range of drinks, champagnes and cocktails offered throughout the ship are amazing and, as you can imagine, these proved popular with our customers (and our team too!).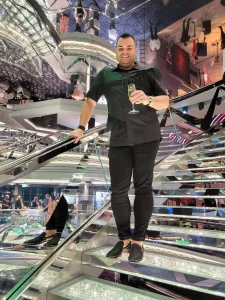 The various restaurants and buffet onboard the ship offered some delicious mouth-watering meals. There is a choice of 11 dining venues promising something for every taste including a new Indochine restaurant concept offering Vietnamese classics with a French twist. It's fair to say that we all returned home a few pounds heavier!
The staff onboard the ship are friendly and really made our customers feel welcome and helped to arrange excursions for those customers who wanted to see more of France and Belgium while we were in port.
Feedback from our customers has been great and many of them have already booked to join us again during 2023. Why not 'Seas the Day' and book to join us too – you won't be disappointed!