From snow mountain hikes, to penguin colonies and iceberg zodiac cruises. All accompanied by the warm welcome of Ponant's excellent staff and their breath-taking ship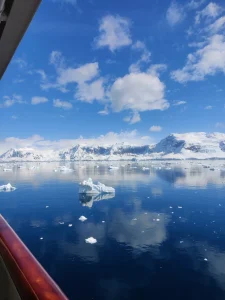 Undoubtedly the best cruising experience of my life. I look back over our latest trip that myself and John from the Thorne Travel team have ventured on, a 10 day Antarctica cruise with the French luxury cruise company Ponant!
From Scotland to Ushuaia the "End of the World"
It was time to travel! On the first day we began our journeys by driving South from Ayrshire to Manchester airport. Our first stop was Madrid for a quick stopover before flying to Buenos Aires in Argentina! After arriving in Buenos Aires we travelled to Alvear Art Hotel in the city centre to meet our helpful Ponant rep and to relax before the Antarctica experience ahead.
Boarding day
On day 2 we met the Ponant guide and group in the dining room for a quick breakfast before boarding our comfortable coach back to Buenos Aires airport. Arriving at the domestic departures area we were checked in quickly for a brief hour and a half wait. Our next flight was a domestic, Aerolineas, Argentina's aircraft heading to the most southern city in the world, Ushuaia. After arriving in Ushuaia we passed our ship as we were escorted to a local restaurant in the province of Chile mountains for a delicious barbecue lunch with local wine and award winning ice cream. To our surprise there was also a Scottish Johnnie walker whiskey bar! Next stop; Ushuaia port to join the stunning Ponant Le Lyrial ship.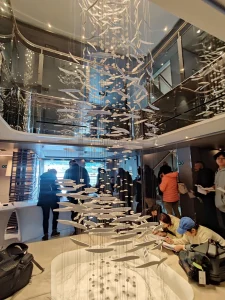 Warm welcome
We were greeted at the port by the helpful Ponant staff who guided us through the seamless check-in process, ensuring we had all required equipment. A wall of Ponant staff welcomed us onto the ship and escorted us to our cabin, cabin number 507. This cabin is a subtle combination of luxury, intimacy and serene well-being. The spacious balcony allowed for great views of the port. The colors are easy on the eye: white, light blue and sea blue.
What a beautiful Antarctica cruise ship this was. This French ship oozes luxury and elegance. The staff are impeccably dressed and all smiles around. You can feel that everyone on the ship is elated to be onboard and raring to go on the expedition. Ready for this Antarctica cruise and be pampered for 10 days straight.
After unpacking our case we were instructed to head for the theatre on deck 4 for our safety drill before leaving the harbour. Followed shortly by a journey back to our cabin to ensure we had our life jackets accessible and fully understood the protocols. The safety instructions are short and very informative. Fast and professional.
Le Lyrial Ship
Le Lyrial is such a beautiful ship. The decoration is stylish, glamorous and sparkling like a diamond without being over the top decadent. This ship has 122 staterooms & suites and can host up to 244 Guests with 145 crew members. The ship has a wonderfully calm vibe, with a sedate elegance.
Drake Passage
We set sail for Antarctica! The start of your cruise was marked by the crossing of the mythical Drake Passage. This body of water connects the southwestern part of the Atlantic Ocean with the south-eastern part of the Pacific Ocean and was our access to Antarctica. Often a challenging journey, this 2 day crossing was smooth and flawless.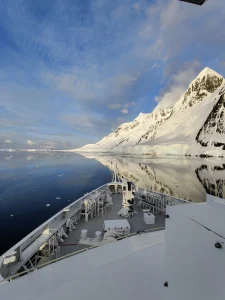 Antarctica Itinerary
Penguin Island – Deception Island – Cuverville Island – Dorian Bay – Portal Point -Wilhelmina Bay – Brown Bluff
Every evening we were greeted by a daily program, highlighting the area we would explore the following day with timings. This helped us to get a fuller understanding of the area and the scenery we experienced. These carefully picked zodiac landings ensured we experienced a great amount of Antarctica landmarks, wildlife, volcanos and jaw dropping ice-bergs. An out of body experience to be so deep in Antarctica and feel at one with the white continent. The Gentoo, Adelie and chinstrap penguins, humpback whales, seals and seabirds provided us with cherished lifelong memories. Each day we were surrounded by a grandiose décor ranging from icebergs to ice floe and ancient glaciers.
Staff
The staff onboard Le Lyrial were very helpful, polite and attentive to our needs. Always ready to help with a smile in any situation. The cruise director Monica done a great job at bringing everyone together on the ship and getting to know all passengers throughout the experience. It never fails to amaze how many different languages the staff members could speak! From maids to chef's they all were so welcoming.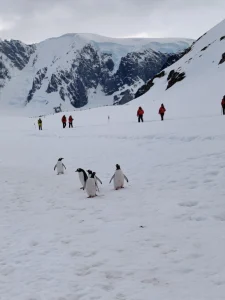 Restaurants
There are 2 restaurants on Le Lyrial: a elegant restaurant on deck 2 and a grill restaurant on deck 6 with an outdoor seating area. We were lucky enough to have a few sunny days and there was no words to describe the feeling of eating a freshly prepared lunch while floating past humorous ice-bergs. Breakfast, lunch and dinner are set times on the ship and you can choose to dine in either of these options. The grill has a more casual feel while the deck 2 restaurant is more fine dining and intimate. As we had a group of new friends we required reservations most evenings for the deck 2 restaurant, all a hassle-free process.
Food & drink
The food was French cuisine at its finest. Every meal offered a choice of unique flavours and interesting choices. On the à la carte menu: an appetizer, soup, salad, a selection of 3 main dishes, dessert, cheeses and ladurée macarons. You can order what you want and as much as you want. There was always a vegetarian option. All waiters were helpful and willing to accommodate for any meal adjustments. For evening meals the wine available was some of the best wine I have tasted. In the grill restaurant the buffet offers a wide variety of meat, fish, vegetables, potato side dishes, pastas, bread and a bunch of desserts.
There was a premium drink package available, and this is a great option to make the occasion extra special. Although we chose not to add on the premium drinks package, we were pleasantly surprised by the choice of drinks in both bars. A great range from international cocktails to unique blends of coffee all on offer at both bars, all served in minimal time by the excellent bar staff. A cocktail of the day was also a interesting feature every evening!
On board activities
Quite a few Lyrial crew members are geologists, marine biologists and and research scientists who know the Antarctic, its climate, fauna and flora inside out. On quiet days while the ship travels these professionals give quite a few very interesting presentations in the theatre. Both in English and in French.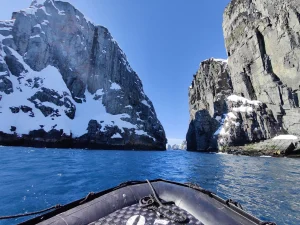 Special clothing & gear
On the second day we were instructed to meet the expedition team in the theatre to collect our Ponant expedition jackets and life vests. These specially designed wind breakers with Ponant branding were of great quality and perfect for the occasion. At the end of the cruise we also got to keep these jackets which was a great memory to have. At this meeting on the second day we also received our expedition boots in our appropriate size.
Packing our case for this trip seemed a bit daunting at first but after experiencing this amazing adventure I can confidently inform anyone looking to travel to Antarctica with a limited weight allowance!
Overall
This was a once-in-a-lifetime experience and sailing with Ponant made it that extra special. From the minute we arrived at Buenos Aires airport tothe moment we stepped off the Le Lyrial ship, we were pampered by Ponant and guided through the white continent in a safe and coinvent manner. These memories will stay with me forever and I can not recommend this trip enough to anyone looking to explore the white continent!