Far East breaks offer many unique and culturally rich experiences that you will find nowhere else on the planet. A melting pot of neon-lit cities, historical wonders, futuristic transportation, time honoured traditions and incredible natural beauty, there really is something in the Far East for everyone.
Exotic, spiritual and intriguing – the Far East is a destination where even the most seasoned traveller can discover something new and exciting.
The region is home to China, Indonesia, Japan and Thailand amongst other fascinating countries. It offers ancient cultures, amazing scenery and wildlife, renowned wonders of the world like the Great Wall of China, delectable cuisine and a range of shopping possibilities.
Imagine whizzing between gleaming golden temples in a Tuk-Tuk; enjoying combinations of salty, sweet and spicy street food at a night market; watching elephants wander through an ancient national park; or snorkeling with sharks and sea turtles. Whether you want to explore China's rich dynastic past, visiting the rows of legendary Terracotta Warriors; dance the night away at the Full Moon parties of Thailand; or cruise around Japan enjoying their cultural festivals surrounding by cherry blossom trees, we have a range of amazing Far East holiday offers to suit every budget.
Our team of Travel Experts have travelled extensively throughout the region, researching the finest hotels, cultural attractions, off-the-beaten-track excursions and five star cruises.
Thailand
1 – The Culture – From temples to tuk-tuks, Thailand is bursting with cultural experiences influenced by both Indian and Chinese traditions. The country celebrates many festivals associated with Buddhism and the locals are renowned for offering visitors a warm and friendly welcome, giving it the nickname of 'The Land of Smiles'.
2 – The Beaches – Thailand boasts some of the most breathtaking beaches in the world with caramel or white sand, palm trees and turquoise waters. Whether it's dancing with friends at a Full Moon Party or relaxing in a quiet beach bungalow, the beaches offer something for every traveller.
3 – The Food – Thai cuisine will have your mouth watering and leave your taste buds tingling. Sour, sweet, salty and spicy flavours work together to make each dish come alive. Sampling the low-cost and world-famous Thai street food is a popular activity for visitors, allowing them to experience an important part of Thai life.
4 – The Wildlife – The exotic rainforests and jungles of Thailand are home to over 285 species, including elephants, tigers, leopards, sun bears, gibbons and macaques. The crystal clear waters along the coastline also offer an underwater wonderland for divers and snorkelers to see sharks, stingrays, eels, sea turtles and colourful coral reefs.
5 – The Shopping – Thailand is a mecca for shopaholics. With huge department stores filled with luxury brands and haute couture fashion to local markets selling souvenirs, jewellery, clothing and shoes at hugely discounted prices, you really can shop 'till you drop!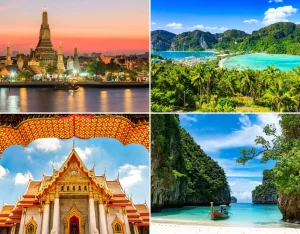 Japan
1 – Unique Experiences – Japan offers a range of experiences unlike any other country. Whether it's taking part in an ancient tea ceremony; watching the Geishas perform at a local banquet; attending a traditional sumo wrestling match; or singing your heart out in one of the many karaoke bars, there is always something fun and interesting to do.
2 – Incredible Natural Wonders – Tourists love hiking and having a picnic at the jaw-dropping Mount Fuji or spending a relaxing day at the hot springs dotted around the country. With volcanoes, scenic mountaintops, glaciers, rows of cherry blossom trees and crystal clear lakes, you'll never be stuck for a photo opportunity in Japan.
3 – Unforgettable Landmarks – Japan is home to a range of huge temples, shrines and castles, including the Imperial Palace which is the official residence of the Emperor. It has some exceptionally high observation towers such as the Tokyo Tower and the colossal Buddha of Kamakura statue. No matter where you go in Japan there is always something awesome to see.
4 – The People – People who visit Japan for the first time are always surprised at the friendliness of the people who are always polite and respectful to tourists. They enjoy talking about their wonderful country. Equally surprising is how safe Japan is, even in the big cities. Japan prides itself on being almost completely crime free.
5 – Amazing Transportation – The Japanese know how to get around. Their trains, buses, planes and ferry boats are simply immaculate and always run on time. Tourists particularly enjoy using the super-speed 'Bullet Train' that connects most of the big cities. Whether you need to go across town, to the next town, or across the country, the Japanese know how to get you there quickly, safely and at very reasonable prices.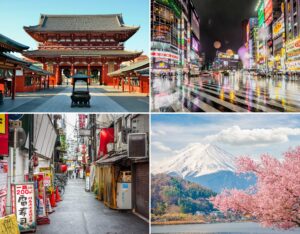 Interested? Get in touch and let one of our Travel Experts help you jet off to one of these exciting destinations.